2021 Ultimate Guide to Finding the Best Sunglasses for your Face Shape
Introduction
Its summer season and sunglasses indeed becomes the most valuable accessory you might possess. With a variety of options and shapes, it gets difficult to choose the right pair. At some days you might enter a store and just find the right pair of sunglasses in one glance. On others, you might end up buying a wrong pair which doesn't suit your face or style.
A great pair of sunglasses instantly improves your look even if you're wearing just a pair of jeans and a T-shirt on a regular day.
The rule for finding the right pair
For finding a pair of sunglasses that accentuates your looks and features, the one important thing you need to find out is the shape of your face. The aim here is that shape of the sunglasses contrasts with the shape of your face. The one primary rule to follow here is that the shape of your sunglasses or frame should be in variation with the shape of your face. No matter how weird this sounds, but this one rule sure will help you in your future purchasing. The frame shape should be different from the shape of your face like a round face with rectangular glasses. The angular shape of the frame creates definition and provides a counterpoint to the round face. Another example can be heart shape face that looks best with Aviator Style or square frames because they help enhance your cheeks.
How to figure out the shape of your face?
There are just four easy steps to find the shape of your face:
Pull your hair back
Use a dry marker which can be erased
Now on the mirror outline the shape of your face and find out the shape
After finding out the shape of your face which can be square, round, heart shape or oval, you need to find which pair will suit you the most.
Different Shapes and the type of Sunglasses that suit
Oval or Oblong Face
Oval shape comprises balanced features with chin a bit narrower than the forehead. The beauty of this face shape is that it can pull off almost all types of frames. You can try starting with slightly bigger frames with round shape. The frame should have a perfect fit on your face. Retro Square and Aviators will also look good on oval faces. Also, make sure that the sunglasses are not too big.
Recommend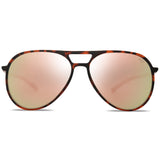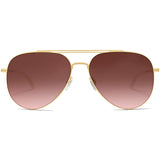 Heart Shaped Face
Heart shaped face is a well-defined face with a broad forehead and narrow chin and jawline. The face is slightly longer by the cheeks. Frames which are wider at the top than bottom work wonders for this face shape. The bridge should be wider than the lenses. Wayfarers are the best-suited ones for a heart-shaped face. Retro Square and Cat Eye can also be suitable for this face shape.
Recommend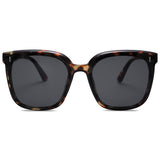 Circular or Round Face
Circular faces are soft and round with the height and width of the face almost identical. These face shapes are most easily recognized. The frames chosen should not be too circular offsetting the roundness of your face. More round frames accentuate the roundness of the face more making it look chubbier than usual. Rectangular or angular frames that are oversized helps set off the roundness of your face and complement with your face shape more. Cat eye, square or retro square frame shape will be perfect for round faces.
Recommend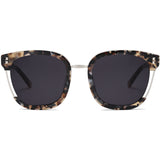 Square Face
A square face has a well-defined angle in the forehead as well as in cheeks and jawline. This face shape generally has more bold features. The people with square jawline should go with softer frames with rounded corners. This style helps in softening of your features and compliments the shape of your jawline and forehead. Best suited types of frames include Round, Aviator or Half Frame style.
Recommend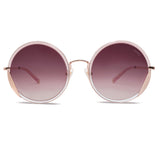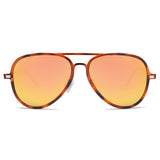 Other prospects of choosing suitable sunglasses
Apart from choosing the shape of your frame, it is very important to choose the right type of lens for the sunglasses.
Lens Protection
The lens should either have 100 % UVA/UVB protection or 100% UV 400 protection. The UVA or UVB rays of the sun can cause damage to your eyes. So it is very important to choose sunglasses with protected lenses.
Types of material used for lenses
Glass: Glass lens is much heavier, less impact resistant and also expensive.
CR-39(plastic): These lenses are scratch resistant and lightweight.
Polycarbonate: Most popular type of lenses used, polycarbonate lenses have high resistance, rugged and lightweight.
Coatings
There are various types of coatings used in making of lenses including anti-reflective coating, anti-fog coating, mirror coating, scratch resistant coating, etc. You can choose from these coatings according to your lifestyle and profession.
Lens colors
 Ranging from grey to red, blue, green and amber, many colors are used in the making of sunglasses and can be used according to one's choice.
Sunglasses are a very important accessory used nowadays. Choosing the best type of pair can sure accentuate your features and make you look even more stylish. Go choose your favorite pair from the given below link
https://sojosvision.com/collections/featured-products